From implementing an entirely new network setup to expanding or upgrading your current infrastructure, the BlueJ Services team can handle your needs. Whether it's simply a cabling update or implementing new or additional hardware or software, our competent team of engineers will ensure that work is completed in a efficient professional manner with minimal business impact. BlueJ Services even offer out-of-hours support and implementations, to give you the flexibility and ease of mind that your business will not be affected during the upgrade or transition process.
Utilising BlueJ as your managed service provider will help you realise the full potential of your infrastructure and ensure that you get the best performance throughout your network. Our team will assist you throughout all required decisions, removing all jargon and supplying you with the facts in order to maximise your returns. Below are just some of the services we offer: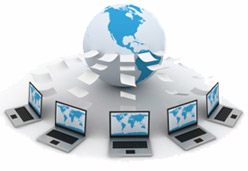 New & Small Business Services: -
o Building & configuring your first server or upgrading/expanding your current server
o Implementing, managing & deploying email accounts
o File & print Services
o Cabling
o Pro-active network checks
Medium & Enterprise Business Services: -
o All of the above +
o Upgrading / expanding existing servers
o Microsoft Exchange® implementation, deployment and management
o System migrations
o SQL Database installations & management
o VPN / Remote working implementation
o Cisco & Checkpoint Firewall & Router configuration
o Network design & implementation including Wireless
o Office setup & relocation
To get help with you network setup and services today, contact us.