Game Design
The BlueJ team has many years experience in creating online and offline games, which have been used by a number of our clients in a variety of ways.
Interactivity on your website, such as a promotional game, is a great way to advertise new products or services which you offer or to simply attract new attention. Perhaps you would like to convert casual browsers or retain customers for a longer period of time on your site.
At BlueJ, we utilise the latest technologies, from 3D animation design tools to packages aimed at optimising the load speed of your online game to ensure the best possible experience for the end user.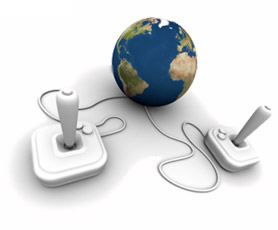 Our experience and expertise are the reasons why our clients include high profile Online Gaming companies as well as Social Networking sites, Financial Institutions and Satellite TV stations.
Product Design
If you are looking to design a new product or update an existing product to maximise sales and awareness, our team can help to create the right product for you.
Our design team will assist you from the initial concept through to the prototyping stages and finally production, however we are also happy to work with you on a particular area of the product design process.
To discuss your product or game design project and to find out the procedure for getting this into production, contact us.